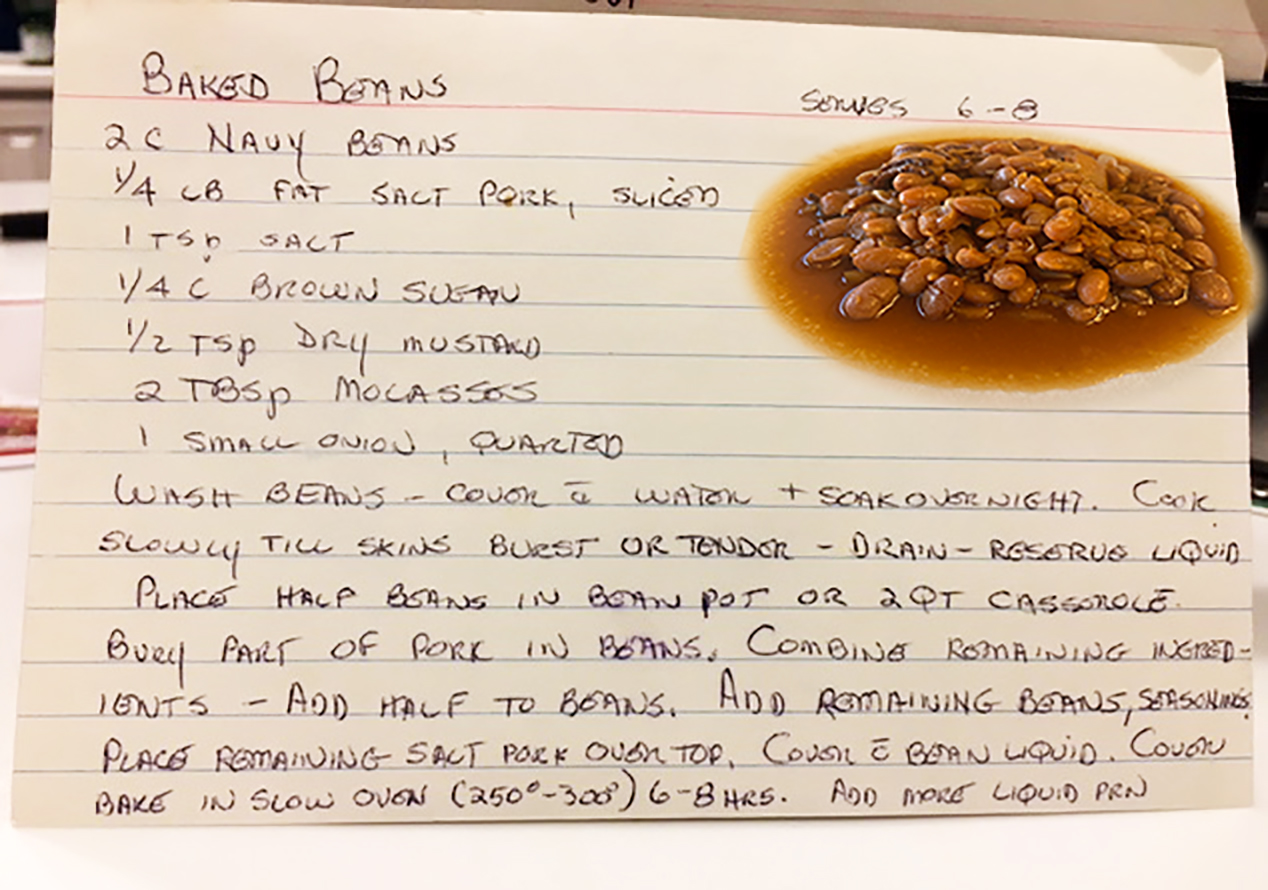 Boston Baked Beans
Hot dogs and Boston Baked Beans have been a staple in my family every Saturday night since I was knee-high to a grasshopper. We lived in Boston, where it was sorta a regional tradition. 
As we children entered our teens and began playing the "we need a say in the kitchen" card, we altered this tradition to include pizza and, sometimes, homemade lasagna. 
But to this day, my mouth still waters and tastes these delicious beans. I finally pried the recipe from my sister, Joyce, who maintains our fabulous recipe-memory treasury. 
Since I cook primarily for our family of two, I halved the recipe. Still, the results were close to my memory despite not finding Navy beans. (I substituted with Siri-suggested alternative, Great Northern Beans.)
And here is my Mom's original Baked Bean recipe! Remember, I cut the ingredients in half for my needs.
Ingredients
2 c
Navy Beans (Two cups is a full 1-pound package)
1⁄4 lb
Sliced Bacon (Cut the bacon strips into quarters. The original, early 20th century recipe called for "sliced salt pork.")
Method
1.Wash the beans, then cover with water and soak overnight.
2. Next morning slowly cook the water-coverd beans until tender (the skins will burst).
3, Drain the beans and reserve the drained liquid. Place half the beans in a bean pot (a 2-quart electric crock-pot will do) or a two-quart casserole dish if baking in the oven.
4. Bury part of the bacon strips into the beans. Then combing the remaining ingredients and add half to the beans. Add the remaining beans and place the remaining ingredients on top. Cover with the reserved liquid and add more water to cover the beans with liquid.
5. Cover the bean pot and set to High. If using the oven, set it to low (250° - 300°). Cook for 6 to 13 hours adding more liquid as needed.
    Enjoy