It was so much fun to run hither and dither out on the road despite the load- or because of it. Her load was a young man on a skateboard. He wanted to go fast. But it wasn't so hard to pull from the tethered leash. 
At the end of each run, there was a different story. The young man's girlfriend, whose apartment they would visit, had a nasty little dog who constantly nipped at Lexie's legs and barked crazily. There also was a tiny child. Being a child-loving Brittany, Lexie would want to play and lick.
That was a colossal problem …
"Lexie has to go!" the woman would shout. The disheartened young man, who dearly loved Lexie, found American Brittany Rescue. They were able to connect him to a local Brittany-loving family. Despondently, he brought Lexie to this family. He told David and Karen his girlfriend had said he had to choose either her or "the dog." 
"I'd get rid of the girlfriend!" David immediately responded,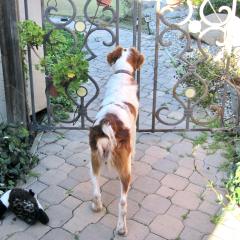 After introductions, the young man departed with tears in his eyes. Lexie stood at the gate and joylessly watched the young man drive away.
But then it was a new world of wonder and excitement … and a new friend! His name was Tango. He accepted Lexie and showed her the ropes around their vast backyard.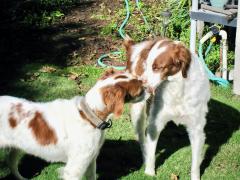 Lexie always had that innate call of the wild. At every opportunity, she would bolt out the front door. Run hither and dither, eventually reaching the canyon at the end of the cut de sac. There, ignoring Karen's and David's cries of desperation, she would disappear behind the canyon's bushes and trees. So much fun evading the cops, she thought.
Sometimes, she would begin to dig a hole under the backyard fence to escape. But Tango would never allow that. He would bark and howl until David came to the rescue.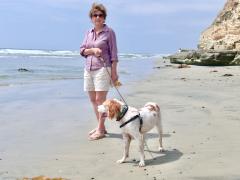 Lexie's most fun happened when the family made frequent visits to Fiesta Island. It was a vast, leash-free zone in San Diego's Mission Bay. In springtime, the grounds would be covered with head-high Marguerite daisies. Romping through the bushes with Tango, the yellow pollen covering her fur, was so much fun. And then bolting down to the beach and into the Bay's warm water was so exhilarating.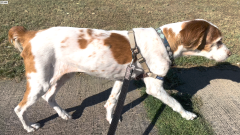 Lexie would always lead, pulling David and Tango during their daily run in the woods. And, upon returning home, she'd jump into the swimming pool to cool off.
Life became very sad when Tango, being older, passed over the Bridge. But Karen and David were so loving she recovered. Months later, Finley arrived. He was a younger male, and Leslie quickly told him she was in charge.
At almost seventeen years old, Lexie succumbed to renal kidney failure. She passed peacefully into the beautiful Brittany Eternal Garden at the the rainbow's end. There to join Touché, Mona, Daisy, and Tangp to play forever.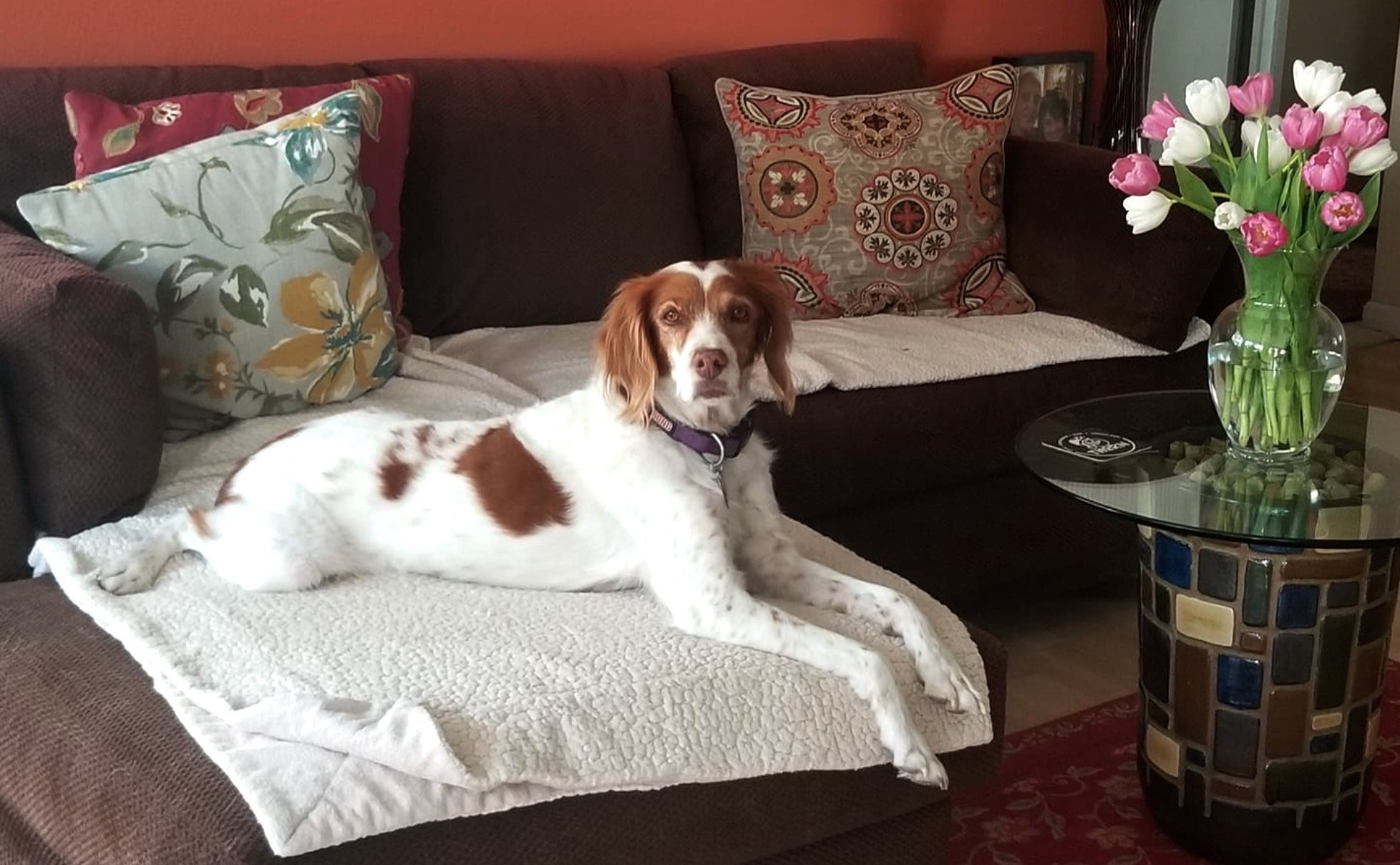 ####